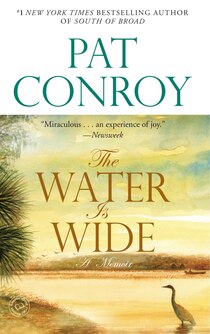 The Water is Wide is an autobiographical experience of Pat Conroy, the author. He vividly describes his one-year teaching experience at the school on an island off the South Carolina coast. It is set in the mid-60s; a turbulent time for America—a time for struggling for civil rights and the beginnings of the de-segregation of the South.
On his arrival at the Island School, he is stunned to witness that the black children are not given the same kind of education that the white children are given on the mainland. There is a lack of resources, the two-room schoolhouse is a bare-bones structure; but the children do not know any better and dutifully turn up at the school every day.
Conroy is on a crusade to make changes; these children will get an education. Much to his chagrin he soon determines that the 18 children in his class are of varying abilities and so the challenge begins as to how he would teach them to read, write and do arithmetic. He employs unconventional methods to get the children motivated to improve their skills; all in total disapproval of the Principal who is not white. Her methodology is to use the leather strap to whip them into discipline to do serious learning.
The reader is taken through Conroy's trials and tribulations of taking his class of students on field trips off the island and exposing them to the different parts of the mainland. Conroy breaks the rules and does not follow the chain of command in order to achieve his goals. The children and their parents love Conroy but not the administration or the Board of Education.
Throughout this epic account, Conroy uses poetic and real metaphors that illustrate the varying moods and personalities of all the characters. Through his superb descriptions of the arguments and debates on the various issues, the reader becomes part of the situations and in a unique way the reader is led to take sides. An excellent read on the realities of a certain period of time in America.